Less than 24 hours before the planned departure and at last the revised long awaited V5 document has arrived much to our relief….phew…we now have all the many many documents in place and Sarah has made sure we have a zillion copies of everything, both to take with us and distributed to family and friends around most of Hampshire! Let's just hope we don't need to call on these back-ups.
However, the weather over the last few days has hampered the last 'tweaks' which need to be done to Alfie therefore we now are planning to leave at the crack of dawn Tuesday morning and head for Dover, so we can have a full day's drive on Tuesday and see how far we get through France. This still gives us plenty of time to get down to Genoa for Saturday's ferry to Tunis.
Rob also thinks this will give Sarah time to reduce her clothes packing by half….when looking at the two piles of clothes, it doesn't take much to work out which pile is which, and that's not taking account for the flickers of pink which are marginally visible!
Today, we are having our last roast lunch for a while with a couple of glasses of red wine for good measure, interspersed with checks of the longest 'final check list' Sarah could produce!
We would like to say a big thank you to parents, friends and everyone who has helped us over the last few weeks, in particular to Paul who has been a fantastic help with Alfie. We owe you gallons of Guiness!
Tuesday 5th October 2010/Day 1:  Four Marks to Calais
Starting KMs 70972
Before we'd even made it to foreign sands we'd met up with fellow overlanders Nat and Paul and their Randy disco 😀
( www.nailingjellytoatree.com) … Huzzar!
It's amazing how quickly the 90 mins passes on the Dover – Calais ferry, esp. when you barely have time time for one glass of coke before the bar shuts and it's time to disembark. I don't think any of us managed to get a word in edgeways.
Distance travelled – 227 kms
Wednesday 6th Oct/day2.  Calais to Beaune:    Odometer 71199km

As it is we've had a rather eventful first few days. When a laptop failure requires a new HDD, it's advisable to test all the software you reinstall, especially if it is the bit that means your GPS knows what you are doing doing once you get off the ferry in Calais, nevermind the important bit about finding your way around the Dark Continent for the next 6 months. The words "Hum" and "Ho" spring to mind meaning that map reading skills were retrieved in short notice. Finally we are in Beaune after an aborted start, the laptop and GPS fixed, stress returned to the box marked "Do Not Open", in an over-budget hotel (with over priced poncy food) to give us a wash and some interwebs. Phew!   The only minor irritation was a TV stuck on a duff French channel with no method of changing to any other duff French channel. Or reduce the volume. Or even turn the bugger off! I couldn't even do the blokey thing of rolling the batteries in the remote as it was locked shut and I'd need to extricate the tools from the back of the truck. Sarah to the rescue as is the norm in such cases where she rustled up the staff to identify the problem by means of a plastic stick to test the broken-ness of the TV, then a trip to locate new batteries (because I couldn't roll them in a manly fashion, of course). Anyway TV and GPS now sorted. Ferry to Africa should be Saturday, if not there's one on Wednesday. not sure when the next lump of interwebs will provide an update. But overall It's tip-top.
Distance travelled – 880 kms
Thursday 7th Oct/day 3.  Beaune to Aix Les Bains:  Odometer – 71852km
Headed for Landrover garage south of Lyon for alternator and starter motor.  The local Landrover garage was only really a dealer but they pointed us in the direction of another garage, which turned out to be true Landrover heaven.  Approx 20 landrovers, different state of repair, age etc. everything from old series vehicles upto the latest shiney Range Rovers and a few prepped for an arctic expedition.  Rob managed to acquire a starter motor but much mentioning of looking for an alternator only produced a series of Gallic shrugs, until a miracle of translation occurred.  Did they have an alternateur?  Ah, oui, l'alternateur…. Non. No alternateur.
The owner kindly showed us the way to a petrol garage where Rob filled up both tanks for about E100ish.  A veritable bargain.
Headed south again for Aix Les Bains.
Camped at 'Camping international du Sierroz', which is located beside the lake.  179 pitches so medium size site.  We had our first beers and ate chewy steak with luke warm mashed potato.  We wandered around for a while and found a bar and drank 3 (rather large) glasses of white wine each, too much for me!  An nibbled on some much needed peanuts.  Sarah didn't notice but there was a rather interesting game of rugby on the TV just above her shoulder.  Which was nice.
The campsite was ideal for what we needed and the owner was very interested in what we were doing – Camping cost E14.
Have spent about 100 eruos on tolls so far.
Distance travelled – 303 kms
Friday 8th October/day 4 – Aix to Genova: Odometer – 72155 km
Went via Tunnel de Frejus, paid E35 for the pleasure of the `12 KMs.
Genova road system and motorway a nightmare.  And that's being polite.
Campsite: Genova Est, Bofliasco, Via Marconi – 16031 – Cassa.
First gnat bites. Showers ok, updated web site, booked ferry to Tunis. Ate ravioli for tea and drank wine.  And a few tiny beers.
Camping cost E20.
Distance travelled – 440 kms.
Saturday 9th October/day 5 – Genova to Tunisia: Odometer – 72595 km.
Took about an hour to get to the ferry port and only went wrong twice which was pretty good. 26 kms to ferry.
Ferry process:
Go to Ferry company office in port building. Need to go steps. Hand on res number and they will give you a print out of your reservation.
This is all you need to get through the dock gates and into the queue for the ferry.
Once in the queue, complete Immigration forms and ticket for ferry and cabin.  This is done in the buiding on the right as your car is pointing forward.  Go up escalator, collect ferry and cabin ticket form from booth on left, complete forms they give you and hand these plus your passports to the Immogration people in the booths in the middle.  They will keep the forms and hand back your passports.  Back to the vehicle to start to board.  Go up to the main deck where there will be a table with a man handing out cabin keys.
We booked a double cabin, car and two people for £443.   Using Grand Navi Veloci, Italian ferry company.
Met up with Vince, Gary and Jay at the port.  They're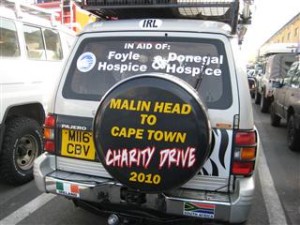 doing a similar route to ourselves, all be it on a tighter timescale – hoping to make it to Cape Town in a matter of weeks to raise awareness of their local hospices.  Sounded like they had quite a bit of publicity in their local media.
Once we were settled in we headed for the bar with the guys for the mandatory beer.  Can of Heniken E4.50 so expensive, remember to take lots of snacks and drinks. Although, the double cabin did have approx 5 cans of fizz and water as a complimentary gesture in the fridge which was excellent.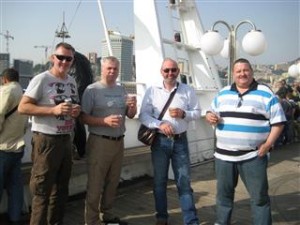 We were treated to dinner by Vince but food is around E5 for a main course of pasta, E2.50 for chips. Wine expensive at E18.   Nothing was spared, especially the wine which vanished with alacrity.  Several times.