Thursday 2nd December/day 59 – Entebbe Backpackers, Uganda.  Odometer 85665 km.
Ugandan roads were such a relief compared to the Kenyan ones and we were back to good tarmac and were making good time.
It rained. Properly.
Getting through Kampala was slow as we hit the now standard Africa city chaos where no-one really obeys lanes or traffic lights.  The road out to Entebbe was pretty easy to find and would have been an easy 30kms away but for an accident which brought us to a standstill and added another hour to the journey.   It was pretty nasty with someone flat out on the roadside, we think he was dead.
We found the rendezvous point and met Jodi for that welcome beer and an opportunity to catch up with news from home.
Food, campsite, bar, superb.
Friday 3rd December / Day 60 – Entebbe Backpackers. Odometer 85665 km.

We plan to stay in Entebbe for a few days as Alfie needs a service and it's a chance to catch up with Rachel and Jodi.  Today was another excuse to do very little apart from saunter around Entebbe and take a walk down to Lake Victoria and the Lake Victoria Hotel where we had a lovely lunch overlooking the lake.
That evening we met up with a whole load of Rachel's friends, all ex-pats, who were keen to hear what we were doing, where we had come from and which route we were taking.  There also had some great stories to tell from their years in Africa and Uganda!
Their hospitality was fantastic.   With one hoot of a air-horn another round of drinks arrived, shortly followed by our initiation ceremony….eating deep fried grass-hoppers!  We did our bit and chewed on a few, but politely refused the second pot.   To be honest, we were relieved to learn they were grass-hoppers as the tub which arrived look like it was full of huge grubs.
Rest assured the evening was pretty lively, although Sarah couldn't keep up with the pace and left Rob to represent Team Alfie well into the wee small hours.
Distance travelled 0 Kms.
Saturday 4th December / day 61 – Entebbe Backpackers. Odometer 85665 km.
We had to get Alfie to Rachel's bosses place by 9am as Mel had kindly offered to have his guys help service Aflie.  Well, we made it by 10am…Africa time!
Mel and his guys were fantastic and checked Aflie all over, changed oils, fixed the broken horn and agreed what needed to be ordered. The good news is that Alfie was in quite good shape despite the 14,693kms driven, buckets loads sand and dust plus some appalling roads.   Mel will order the required parts on Monday ready for the remaining part of the service to be completed on Tuesday or Wednesday.
In the afternoon Mel took us to the Entebbe Sailing Club on Lake Victoria.   Good sized beach, swimming pool, lasers and motorboats.  Great spot, with a cool breeze.  Another truly tough day.
Ex-pat, Dutch Christmas party, beers.
Mel building lodges.
Gentle evening back at the camp.
Distance travelled – 0kms
Sunday 5th December / day 62.  Entebbe Backpackers. Odometer 85665 km.
Hmmm, over the next few days, you will probably notice a trend…a day of reading, people-watching, faffing and not really doing very much apart from clothes washing for Sarah.
Entebbe is very relaxed town.  We are able to walk from the campsite into the centre within 15 mins, but above all, people leave us alone.  There is a large ex-pat contingent here with some UN thrown in as well.   But it all appears very safe.   Although, we still need to make sure we are camping somewhere where there is a perimeter fence, gates and a guard!
Distance travelled 0 kms.
Monday 6th December/day 63, Entebbe. Odometer 85665 km.
We explored the Botanical Gardens in Entebbe during the morning which was all very relaxed. Well, all relaxed, once we had found the entrance.  Africa does like to keep things hidden.  Also, added to this, is the fun and chaos which follows when asking the locals for directions…."go across three roads" – if we did that we would have been swimming in Lake Victoria, followed by "it's up the road and turn left after the tree" – but the person directing was pointing to turn right…so we replied with, "up there and on the right (using hand directions)", to receive the answer, "yes, up there on the left"!!
A lazy day of sun, coffees and another restaurant followed.
Distance travelled 0 kms.
Tuesday 7th December, day 64, Entebbe. Odometer 85665 km.
Action!   Rob took Alfie over to Mel's for a service.  Sarah and Jodi took a saunter around the weekly market which was fun.  Predominantly, a fruit & veg, second hand clothes market with a few dodgy meat stalls thrown in.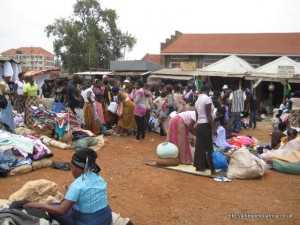 We all met up for lunch at a lovely pizza restaurant set on the sandy shores of Lake Victoria.   It was a such a hot afternoon Sarah and Jodi retired to the pool and Rob ventured back to Alfie to see how the work was going.
More food, beer, wine, well into the evening.  Plus another power cut thrown in for good measure.
Fantastic lightning and thunder storm throughout the night, a great sight although we both managed to get rained on through the mesh of the tent.  Sarah also thought we may get electrocuted as the fridge was plugged into the mains without any sort of power breaker in place and it was bucketing down.
Distance travelled – 0 kms.
Wednesday 8th December, day 65. Entebbe Backpackers.
The day so far has been very overcast therefore no pool for Sarah.   Rob continues to work on Alfie at Mel's place with the help of the local mechanics.
We've got plans to head off to the north of Uganda for the weekend to visit Murchison Falls and National Park for our first game  drive whilst Sarah was left in charge of discussing where to stay with Rachel and Jodi.
The aim is to be away by mid-morning as we need to wait for a new part to arrive from Kampala for Alfie.  We decided to stay at Rachel's that night in order to swap out some stuff from the back to make room for our guest overlander, Jodi.
After a lot of tinkering by Rob and thinking by Sarah, the decision was to go out for lunch.  All good, until we got to the garage to fuel up. At which point Alfie refused to start again.  The Stop Selonoid had jammed again.  Thankfully, we were able to call for Mel's mechanics to come and get us.  What was left of the afternoon was spent removing the "fixed" plunger from the solonoid until the new one arrived.
Later that evening, Sarah decided to have an early night following a good feed at '4 Points' restaurant, while Rob went on to the Drunken Frog to play darts with the ex-pats.  None of us are totally sure what time Rob rolled back in but it was between 2.30am and 4am, but he needed a little help to get in.  Crash, bang, wallop!  "Rob…sshhhh…."
Distance travelled – 1 kms.
Thursday 9th December, Day 66.  Entebbe Backpackers to New Court View Hotel, Masindi.  Odometer: 85685.
Not sure how Rob did it, but we were packed up and at Mel's place by 9.30am.  The part arrived around 11am and after a little more tweaking we were away by mid-day.
Just one little mistake negotiating Kampala put us behind a little so we decided to stay in Masindi, the gateway to Murchison Falls, for the evening.   The recommended accommodation was New Court View Hotel (N 1 41.146  E31  43.047. Camping 10,000 UGX pppn)  It has a good restaurant, friendly staff and clean ablutions.   Unfortunately, there was a fun fair directly opposite the hotel which was thumping music out well into the night.
Distance travelled:
Friday 10th December/day 67.  New Court View Hotel, Masindi to Red Chilli Campsite, Murchison Falls National Park.  Odometer: 85991.
"The rain in Spain falls mainly on…Rob and Sarah…"
After a short half-hour drive, we arrived at the park gates, parted with lots of   $US bounty and headed on, soon to be set upon by Tsetse flies much to everyone's distaste.  There followed a very hot and bumpy ride to the Falls and then onto the campsite as we opted to evict  all flies and drive with the windows up!
Murchison Falls National Park is Uganda's largest protected area, 3,840 km2.   The Murchison Falls – the wide, languid Nile being transformed into an explosive froth of thunderous white water as it funnels through a narrow cleft in the Rift Valley Escarpment (see photos) – is easily the most impressive waterfall we've seen so far and outstrips Thomson Falls by bucket loads.   We were the only people at the top of the falls as well which helped as well.
The Victoria Nile flowing in a westerly direction splits the park in two.  We stayed on the south side and would take a pontoon to the north side for the game drive tomorrow.
The plan was to take a boat to the bottom of the falls in the afternoon. Having had lunch and made our way to the boats and met Andy, our very helpful contact, he quickly advised us that we may want to take cover in the bar as there looked to be a rain storm coming over.  Rob needed very little persuading as he'd already pointed at the sky several times, so we retraced our steps and thank goodness we did.   A fantastic rain storm followed – again see photos and video.   We just feel a bit sorry for anyone who was out on the Nile during the storm.
A quietish night followed as we had to be up at 5.45am in order to get on the first pontoon for the game-drive.
Distance travelled:
Saturday 11th December/day 68.  Murchison Falls National Park.
"Mud, mud, glorious mud.
Nothing quite like it for cooling the blood.
So, follow me follow, down to the hollow.
Where we can wallow in glooooorious mud."
For anyone who does not recognise the chorus above, refer to Flanders and Swann.
We were first on the pontoon and into to the park by 7.30am. Prizes were on offer for the first wildlife sighting but we didn't need to wait for too long before we started to see Uganda Kob and Jackson Hartebeest (deer like animals).   Shortly followed by our first sighting of Elephant and Giraffe.   The highlight of the morning was the mass of Hippos happily settled in the water and the inquisitive bull elephant -again see photos and film.
Other animal sightings were:
Warthog, buffalo, Oribi, Fish Eagle, Colobus and Red-tailed monkeys and Crocodile.
We tied to get back to Red Chilli for lunch but after the storm some of the tracks were a tad tricky.  We had to take a couple of detours to avoid fallen trees and stranded vehicles (see vids).  Finally we got back in time for a bite to eat and then the boat ride to the bottom of the falls in the afternoon which was very relaxing and provided some excellent photo opportunities.
Distance Travelled – about 60 kms.
Sunday 12th December/day 69.  Red Chilli Campsite, Murchison Falls National Park – New Court View Hotel, Masindi.  Odometer: 86199.
We decided to go Chimp trekking in the afternoon as the lodge where we had to meet was still within the Park but would take a good couple of hours to get there.   Jodi opted out of the trek therefore Rob and Sarah headed off into the rainforest in search of Chimpanzees.   Hmmmm, sometime later…still searching, listening and staring high and low the little buggers were deciding to be a little too elusive.   Eventually, after approx 2 hours we found them!   A great sight and glad we made the effort.  We also saw plenty of Colobus and Red-tailed monkeys.
We arrived back at the New Court View Hotel for Sarah to be met by the owner, a lovely  British lady.  Sarah must have looked a right state as the lady kindly offered us the free use of the one of the bandas (basic lodge) " to go and have a hot shower and relax".   Rob thought he must send Sarah in first far more often!
Distance travelled:
Monday 13th December/day 70 Masindi to Entebbe.  Odometer: 86266
A steady drive back to Entebbe only impaired by the frustrating Kampala traffic.   In fact we have decided that the traffic is made worse by the crazy traffic police who seem to make things ten times worse.  At one point we were sat at a set of traffic lights which changed 10 times without us moving an inch.
We arrived back mid-afternoon and chilled for the rest of the day back at the Back-packers hotel.
Distance Travelled:
Tuesday 14th December/day 71.  Entebbe for Rob, Kampala for Sarah.
Sarah headed off to Kampala with Rachel and Jodi for a bit of girlie shopping at the craft market and practised her bargaining skills once again.
Rob stayed put at the Back-packers hotel and managed to do some washing, despite this being a pink job!
As this was our last night in Entebbe before heading off towards Rwanda in search of Gorillas,  and the last time we would see Jodi until next March we thought we would go back to our favourite restaurant 'Faze 3'.   A great meal and great company to round off a fantastic stay in Entebbe.  I think we both rather enjoyed the ex-pat life that Entebbe had to offer.
Wednesday 15th December/day 72.  Entebbe – Lake Bunyonyi. Odometer 86552 Kms.
A early start, ready to face Kampala for the last time.  Kampala's chaos didn't disappoint but as we were driving west we didn't have to fight through the traffic for too long.
A good drive down to Lake Bunyonyi listening to HMS Pinafore whilst driving through plenty of banana plantations and green rolling hills. Again, we could have been back in the UK.  (except for the bananas, obviously.  Oh and the weather. And the mud huts. And the lack of traffic… )
We arrived at Bunyonyi Overland Camp at 2.45pm and were wowed by the location.  After approx 12kms of yet another bumpy track you enter through the camp gates, down a short slope and onto a grass area overlooking the lake.   The location for Team Alfie was simply fantastic and we had soon set up camp.
Alas, about an hour later the dreaded overlander truck arrived and Team Alfie was soon swamped by 11 tents…really not good.   One of the tents was virtually hanging off the front bumper.
The temperature dropped quite significantly and a sudden bout of rain sent the group of overlanders to bed early – much to our relief.
Distance travelled –
Thursday 16th December/day 73.  Lake Bunyonyi.
Nightmare.   First group of tents were woken at 5.30am, breakfasting and then washing up in an extravagantly noisy fashion (why didn't they leave it for the rest of the group?!) and then off in a minibus.    After hours of even louder banter between the cooks we finally heard "this is the last call for breakfast" for the remaining group.  Then, from across the shores we heard drums!  Not a great start to the day.
Anyway, can't say we achieved much today apart from updating the website, Rob finishing the book he'd been reading and…. planning for our Gorilla trek on Saturday morning!  w00t!
We are sooooo excited.   We plan to leave Lake Bunyonyi mid-morning on Friday to head for the Rwandan border and check into a hotel which is just outside the park gates for where we need to meet for the Gorilla trekking at 7am Saturday morning.
We hope to be able to join the group who will head off to see the Susa group, made famous by Diane Fossey  (Gorillas in the Mist). Apparently the Susa group is made up of some 40 individuals, including Silverbacks and youngsters.  We are hoping the terrain won't be too bad for Sarah but we are sure the steady climb will be achievable.
We hope to update everyone ASAP afterwards.
Distance travelled: 0
Friday 17th December/day 74  Lake Bunyonyi, Uganda – Kinigi, Rwanda. Odometer xxxx.
We were entertained by children from the local orphanage last night with singing and dancing around the camp fire which was great fun and if you click on one of the video clips you should be able to hear them.
It was the coldest night so far so we had a slow start to the day. The overlanders were a lot quieter this morning which was good too.
Another landy arrived late last night as well.  This time, the two people travelling were white Namibians travelling from Cape Town to Cairo so we were able to swap information on routes and places to stay. We were eventually on our way around 1.30pm.
The border seemed to arrive very quickly and we were through in about half and hour which was good. The Rwandan Immigration people were welcoming and very interested in what we were doing.
The route from Uganda to Kinigi, Rwanda should have taken us somewhere between 2-3 hours but somewhere we took a wrong turn and took the even more scenic route around the mountains and through our first tea plantations.  Simply fantastic views and once again small tracks and mountainous drops! But Rob did a great job as we trundled.
Not too sure the villages had seen many overlanders in their time as most of the adults just stood and stared and waved back when we waved, whereas the children went wild.  Whenever the children saw us, there were shrieks of 'Munzungu' in an ever increasing shriek.  The shrieks can even be heard from above us somewhere in the hills.
We arrived in Kinigi and found the Kinigi Guest Lodge very easily. It is a great location for the National Park HQ for where we rendezvous for the Gorillas.   After dinner we spoke to some people who had trekked this morning but only for 20 minutes and sounded a bit disappointed in the short walk but the sight of the Gorillas made up for it.
An early night ready for our trek tomorrow.
Distance travelled: