Tuesday 21st December/day 78.  Jambo Pleasure Beach, Rwanda – Khama, Tanzania.  Odometer: 87917.

It was dark and we awoke to the sound of sloshing water.  We didn't think much of it but then Alfie shook a little and we soon realised the gate guard was washing Alfie.
We then shone the torch at our watches and realised it was 5.30am!
Crikey, the guard must have been bored, or, did he forget we were meant to be asleep  above in the roof tent?!  He did a good job though.
Rob went onto change around the tyres, check the suspension, oils etc – all with a small audience gathering.  We don't think they had seen anything like Team Alfie before and were all fascinated.
Today was border day as we set off towards Tanzania.  We were sad to be leaving Rwanda as we had found the country fascinating.  Perhaps one day we will go back and explore some more.
Border crossings went well apart from the Tanzania Passport/Visa man not accepting a $50 note with a small tear in it 'as the machine would not accept this madam'.  Arghh.  We also got a good rate with the money changers.  Sarah is just getting better and better as this black-market money exchanging racket!
We decided to head on the road to Kahama rather than the Northern route via Geita.   There were long stretches of road with nothing much about however, we weren't ready for how poor this part of Tanzania was.  We think that a lot of the villages were made up of refugees from Rwanda as we did pass some redundant signs to refugee camps.
Extra care must be taken on these roads as there are some spectacularly sneaky pot holes (as mentioned by the Namibians we met at Bunyoni Lake).  One in particular managed to catch out an articulated truck and throw it right off the bridge.  Sobering stuff.
We trundled towards Kahama on pretty good roads only to hit the biggest rain storm we had experienced so far.  Rob slowed down to a sensible speed as visibility was greatly reduced only to be overtaken by one of the suicidal coaches which we have come to hate and watched it aquaplaning across the road.
We were due to arrive at Kahama around 5pm which was ok for us as we had found a lodge in T4A which sounded lovely and had visions of a relaxing drink in the lodge bar.  Turning left off the main road into a very busy dirt road comprising of very many shops, people, cars, trucks and nothing like a 'lodge'.  Perhaps as this point we should have realised that our lodge was not going to be up to our expectations!  A few minutes later we found the lodge down an even more rutted dirt track-cum-back-street and quickly decided not to stay there!
We headed back out to the main streets to start to look for somewhere half-decent to stay and rocked up outside 'Hotel Mongo' which looked modern and had secure parking.
The price was a agreed by a 'manager' on the side of the road and we drove in and parked up.  Funnily enough the price had then risen by 10,000 TZS by the time we were checking in – this should have sounded alarm bells to us but it was now dark and we had been on the road all day and thought of a hot shower was so welcoming.
We were shown to a room with air-con and a decent bathroom so agreed to stay for the night.  Rob headed quickly for the 'so-looked-forward-to' shower only to re-appear within seconds to say "there's no water".   Sarah was dispatched to reception to find out what the problem was, only to be told "we have no water, it is a problem in Africa you know…".
Now, the part of this tale that we still can't get over is that the reception manager, Rob and Sarah all stood in the bathroom and discussed the need for a good hot shower and nothing was mentioned about the vital ingredient being missing!
Anyway, after much huffing and puffing and "you've just sold us a room with a bathroom" conversation from Sarah, water materialised from somewhere, but sadly it was cold. Hot water was just too much to hope for.
Next, was the need for hot food and a cold beer but sadly this all got a bit mixed up too and we were given warm beer and cold food.   Rob's food was virtually frozen.  Upon enquiring as to why the food had turned up cold, the chef was sent up to us who explained, very politely, that he first cooked Rob's and then Sarah's meal, therefore Rob's meal sat on the side awaiting Sarah's food to be cooked.  The chef couldn't grasp the need to ensure both meals were cooked simultaneously!   We decided to retire to the room where Rob had cream crackers and peanut butter washed down with all the remaining cold beer from our fridge!
But, at least we still had water in the bathroom.
Mongo Hotel: S 03 49.860 E 32 35.783.  May be fully functional in a few year's time.
Distance travelled:   438 kms
Wednesday 22nd December/day 79.  Kahama – Mwanza.  Odometer 88355.

A new day and an early start leaving the hotel behind us, we headed for Mwanza where we aimed to spend Christmas before heading into the Serengeti.
The roads were good and the landscape soon started to change from flatlands to marshlands and then onto green fields with stony outcrops with at times huge boulders.  We passed numerous men and boys on bikes.  Again, the boys seemed far too small for the bikes and the men were having to push their bikes as they were so over-laden with charcoal, wood or water.  We are still convinced there is only one size of bike out here.
We arrived at the Mwanza Yacht Club at 11:30 which was easy to find and was on a great spot just outside the town.  The views out to Lake Victoria were fantastic and we quickly came to the decision that we could spend a few days here.
Alfie was parked up and we headed to the Talapia Hotel next door for lunch which was all very relaxing.   A storm rolled in over the mountains so we took the opportunity to have a little afternoon nap before heading back to the Hotel for dinner, although the food wasn't that great which was a pity.
Mwanza Yacht Club:  S 02 31.745  E 032 53.652.
Distance Travelled: 287 kms.
Thursday 23rd December/day 80. Mwanza Yacht Club.  Odometer 88642.

We had seen a garage on the way in with a load of Land Rovers outside so we took Alfie over to get a new rear diff seal as this was leaking a bit.  An hour later, we were all done and heading for the overpriced supermarket to buy our Christmas meal.
T-bone steaks were purchased along with a few other Christmas goodies.  🙂
An afternoon of reading by Rob and faffing by Sarah then followed before we were alerted by one of the staff to a crocodile which had crawled up the slip way at the Yacht club. Thankfully, it was only a baby croc!   However, it was enough to ensure that Sarah made Rob move the table in front of Alfie a little way back from the waters edge whilst having dinner just in case Mum and Dad were lurking somewhere as well!
We had hoped that we would meet other overlanders at this campsite but no-one had appeared just yet.
Oh, and another very impressive thunder storm rolled over during the afternoon.
The Yacht Club was very similar to being at home.  A well stocked bar, basic but good food, trophy cabinet, boards of honours albeit a lot seemed to stop at 1994 ( presumably when the Rwanda trouble erupted).  We would recommend this place as an overland stop.
Distance travelled: 7 kms.
Friday 24th December/day 81.  Mwanza Yacht Club – Christmas Eve.  Odometer 88649.

Spider!    Big bloody spider!
Sarah was just about to reach for the rug from the back of Alfie when low and behold there was a spider the size of the moon (slight exaggeration) sat on the side of one of the boxes.   Rob was in the loo (no surprise there), so Sarah ran to one of the locals who was  minding his own business, getting on with his own yacht club duties, and virtually hauled him over to Alfie.   The poor guy was a bit confused but once he had focused on what Sarah was gesturing at quickly got a stick to kill the little monster with, at which point the spider moved!  Arghhhhhhhhhhhh.
The local guy was brilliant and got into the back of Alfie and started to pass all the gubbins out to Sarah.  Rob returned at this point and was a little bemused as to what was going on but soon caught up and helped the evacuation procedure.   The local then managed to see that the spider had crawled through the dog-guard to the back of the fridge.   He was out and round the side of fridge and with one quick stab had killed the beast and thrown it into Lake Victoria.  Phew….
Alfie was then completely emptied, fumigated and cleaned and then fumigated some more followed by lots of 'what ifs' and 'how long has he been there'.
What ifs…Sarah had put her hand in and been bitten.   ….it had crawled out while we were driving…  what if there are more which have crawled into all the nooks and crannies of a Land Rover…far tooooo much to consider!
How long had it been there?  We think we may have picked it up at Kim and Tim's in Ethiopia as this was one of the last times all the boxes were out.  Some three weeks ago.  We also found the nest and discarded skin in the recess of one of the boxes.   Shudder, shudder.
For any budding entomologists out there, the spider was khaki with black stripes over the body and legs.  Size – approx the size of a clenched fist.    We think it may have been a sand spider.
The rest of the Christmas Eve was calm and collected.  We had burgers for dinner, that old traditional Christmas Eve ritual…not…but good enough for us!
Suddenly, there were lights at the gate to the camping area and there was Vince and Karin, two Dutch overlanders we had met in Aswan. It was great to see them and catch up on each others tales.
Later that evening whilst sat in the bar at the hotel next door, we then saw too other vehicles pull in and by the shape of the vehicles and lights we could tell then were old Land Rovers (we are turning into Land Rover nerds).   Christmas Day was going to be good.
Oh, and the daily thunder storm came over.
Distance travelled: 5 kms
Saturday 25th December/day 82.  Mwanza Yacht Club – Christmas Day.  Odometer 88654.

Merry Christmas everyone.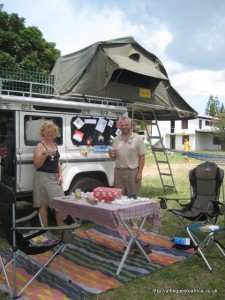 A very gentle start to the day, with us opening our Christmas shoe-box of goodies from Shirley and Tony and cards from friends and family.  All of which were fantastic to receive and in particular the Duchy biscuits, Christmas crackers and serviettes and new M&S pants!   You can never have enough M&S pants and certainly cannot have Christmas Day without crackers!
Alfie was decorated with cards and a few of the smuggled decorations Sarah had brought along.
Norman from the 'old Land Rovers' came over to introduce himself and we discovered that he was the Scout Leader from 1st Bulawayo (Pioneer) Scout Group, Zimbabwe, who were on their "Roof of Africa Expedition" for five weeks for their centenary celebrations.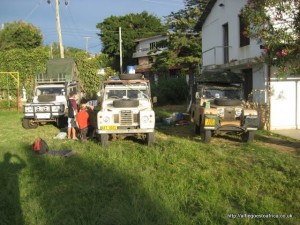 Norman soon returned with offerings of Christmas cake, ( complete with marzipan and icing) yum.
Calls were made to family at home although it was a pity that Sarah's family couldn't hear her but at least she could hear them.
In return for the Christmas Cake, we went armed with our wine box and gave all the Scouts a glass of cold crisp dry white wine and made a toast to our friends and families all around the world, to one 'n' other and to a very different Christmas Day.
Rob took up residence in the hammock whilst Sarah prepared lunch of t-bone steak, mashed potatoes and vegetables.   The steak was fantastic! (Oi, and so was the mash).
Harrods Christmas pudding and Bird's custard made for a perfect pudding for the day.   What's more, all of our celebrations had been completed without the daily storm we had been experiencing.
See pictures and video.
Later in the evening, the Scouts headed off to the hotel next door for their Christmas meal and we, still stuffed with our Christmas lunch, headed for a few 'light' drinks in the bar which overlooked the campsite.   Ho ho…
…within no time, the wind was picking up to the level where empty glasses were being blown off the bar.  The staff were fighting against the wind to pull down the shutters and batton down the hatches.  We could see that the roof tent was being buffeted a little and soon afterwards we saw the Scouts feverishly running around moving their camping gear and Land Rovers away from the lake shore back to the relative safety and shelter of the sizeable squash courts.
At this point, we quickly calculated how much we had spent on the roof tent, and the cost of the loss, damage and replacement..drinks were finished rapidly and an Alfie was moved to an adjacent spot to the Scouts.
The Scouts had set up their camp beds in the squash courts, but as we didn't have any camp beds we opted to brave it out in the roof tent.  Thankfully, the storm did blow over relatively early in the night.  So much so, that some of the Scouts opted to vacate the squash court and sleep under the stars.  We just wished they had warned us they were going to do this, as one decided to tie his mosi-net to the bull-bar on the front of Alfie, which once again rocked Alfie half-way through the night and gave us yet another fright.
A different, but very lovely Christmas all the same and thank you to everyone who sent messages.  They are great to receive when you are away from home.
Distance travelled: 0.
Sunday 26th December/Day 83.  Mwanza Yacht Club – Nigiri  Campsite, Serengeti. Odometer 88654.

Team Alfie packed up early as we were off to the Serengeti – hurrah!
We arrived at the Ikoma gate entrance at 1.30pm, parted with a wad of cash and headed straight into the park.  Oh, have to say, the guy at the gate still managed to overcharge us despite him having to calculate the exact same amount for the car in front of us!
Within 20 mins we had come across Zebra and a female elephant and her baby – so wonderful to see.  A stop at the hippo pool was great fun to see and hear, they have so much character all splashing around in the water, grunting away.  ( A noise Rob is familiar with.  Sarah has been practising the Hippo noise since Botswana all those years ago).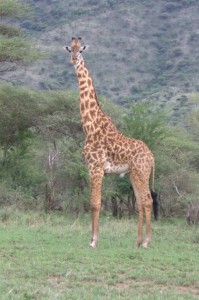 Thereafter, we saw, giraffe, warthog, Kanga, fox, baboons, African buffalo, Jackson's hartebest, Thomson's gazelle, Impala, steenbok, dik dik and a marmoset.
We settled in one of the many (basic) campsites, managed to make a successful call to Sarah's family and met up with a great bunch of people from an overland truck where we shared stories around their camp fire.
There are no fences around the campsite therefore all night we could hear the noise of the bush, and let our minds race for what was out there – superb.  (We could see Jackals at the foot of our ladder from our seats at the fire ).
Ngiri Campsite:     S 02 25.109  E 34 51.479.
Distance travelled: 358 kms in total.  63 kms in the Serengeti.
Monday 27th December/day 84.  Serengeti National Park – Ngorongoro Crater. Odometer: 89012.

Up and away by 6am as we wanted to find Lion, and we weren't disappointed.  One of the guides from the overland truck had told us where to head for and he was spot on.  There was a pride of some ten – sixteen females and cubs watched over by one huge male.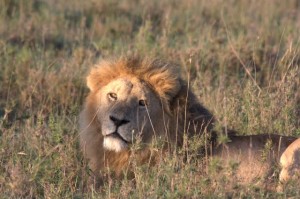 We left after about forty minutes – off in search of other wildlife.   It was great to just roam around the Serengeti in Alfie, and we weren't to be disappointed.  Soon we had come across more elephant and giraffe and even a cheetah or three, who we watched move from rocks and cross over the track in front of us.
Heading off towards the plains we came across the scene we had both been hoping for,  thousands upon thousands of migrating wilderbeest and zebra (see photos and video).   Simply amazing.  The most astonishing thing was how silent they were was their migration passed first in front, then behind Team Alfie.
We did have one moment when we got a bit too brave and ventured down a track away the main road.  It was a little bit more than soggy and Alfie did have a moment when he slid sideways for a fair while, we soon got back onto terra-firma on the main track!
The pass for the Serengeti is in 24 hour chunks and the game reserve is fastidious about the timekeeping  therefore in order not to be charged another $200 we ensured we were clocked out in good time only to part with another $200 to enter the Ngorongoro Crater reserve.   (What a bloody swizz!)
Spotted today were:  Lion, wilderbeest, giraffe, zebra, hyena, elephant, impala, cheetah, buffalo, hippo, babooooons, rock hyrax, dwarf mongoose.
Heading off to the ferociously overpriced N'goro Crater we hit red dirt track and Alfie started to suffer from a stutter and we had fears that we were about to break down in the middle of the game reserve!  However, good ole Alfie got us to the campsite where Rob was able to clean out the sedimenter.  Duff African fuel strikes again and a sludge of pink dust and crystals were fastidiously removed.
More perfect timing from Team Alfie meant that the discarded fuel from the sedimenter could be used to kick-start the camp fire of expensive, freshly cut, wet wood provided by N'goro. Pah!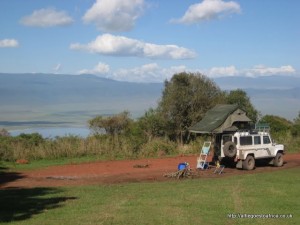 'Simba A' campsite was the venue for the night which turned out to be very expensive for something very grotty.   There were very limited options for roof tents as we were not allowed to drive onto the main grass area, therefore, we opted for the spot with a view of the crater but unfortunately also close the the shower block.
We did manage to have a home cooked meal with a glass of wine overlooking the crater as the sun went down.  We were also within sight and ear-shot of the resident bull elephant and just hoped that he maintained a respectable distance during the night. The night guard did come up to us and introduce himself and he did reassure us that the elephant 'was harmless'.  Let's just hope so!
Team Alfie was 'on-show' for the duration; or that's how it felt anyway.  We had a steady stream of people from many nationalities either looking from a distance or plucking up the courage to come and chat and find out what we were up to.  We had no idea so many people wanted to talk to us.  We met two great girls from Arusha who were working as lawyers for the Rwanda war crimes tribunals and children welfare who were very interesting to chat to.
Sadly, the rain arrived and we were all off to bed! (in respective tents that is!)
Simba A campsite: S 3 13.647 E 35 29.445.  $30 pppn.
Distance travelled:  279 kms in total.  181 kms in the Serengeti.  98 kms to N'Crater campsites.
Tuesday 28th December/day 85 – Simba A camp, Ngorongoro Crater – Masai Camp, Arusha.  Odometer: 89291.

It was quite a cold night and thankfully the elephant behaved. We had opted not to pay the extra $200 to enter the crater so we listened to vehicles heading off to the Crater around 6am and had a snooze until well after 8am.   Unfortunately, it was raining a little and the crater was submerged in a mist so first views of the crater were a little limiting this morning.
Even before we were up and about, we could hear last nights tales being retold to new visitors.
No sooner was Sarah down the steps but she was met by Mel, one of the lawyers from the night before. She had opted to stay back in camp and wanted a lift back early to Arusha and we were happy to oblige.
A quick stop at the look-out point for a photo opportunity before heading in Arusha, some 3 hours away. A good drive on decent roads meant we were arriving just in time for lunch.
Mel told us where the local café was and the best supermarket to head for.   All good tips.  Once fed, watered and stocked up, we headed for Masai camp, which we had read and heard about as being the 'overland/local nightclub' but as it was mid-week we just hoped it would be relatively quiet for us oldies!
Our prayers worked and there was only one German truck in with a bunch of older overlanders.  In fact, they asked for the music to be turned down later into the evening!
Hot showers…bliss.   The only down side were the mosquitoes.
Milk & Honey Café – on main road in from the Crater, last block on left, approx 200 metres south of the main roundabout in Arusha.
Masai Campsite: S 2 23.120  E 36 43.218.
Distance travelled:  192 Kms.
Wednesday 29th December/day 86 – Maasi Camp, Arusha – Elephant Motel, Same.  Odometer: 89483.

A quick stop at the Landrover garage in Arusha to get some new hub caps (having had a couple half-inched in Arusha the day before) before heading off eastwards towards the coast of Tanzania.  We are planning to spend New Year somewhere on a beach and maybe try to get to Zanzibar as well.
Although we have been in Arusha for less than 24 hours, we have found it to be a good stop for us.  There are loads of reports about the town being swamped by safari trucks transporting hundreds of tourists to and from the Serengeti and N'Crater and whilst some of these stories can be upheld, we didn't feel totally engulfed.  We even found a post office!  And since about 40% of those safari cars are Land Rovers, no shortage of bits available should you require them.
Whilst stopped at a fuel station, we were again approached by a guy, who had seen us in town the previous day. He pulled into the fuel station to have a chat.   He ran a fleet of 14 Land Rovers and was eager to chat and asked us whether we would sell Alfie….another request!   The answer was 'no' ….again. Alfie is far too precious to us, apart from being our home for the next 3 months.
We headed for a place called 'Same' and the Elephant Hotel which was a good half-way point between Arusha and the coast.  Although, they advertised camping there were only areas for ground tents, so we camped in the car-park but no probs for us. We were the only campers there, had the shower and loo block to ourselves and our own Masai-warrior (fully kitted out) guard as our protectorate for the night.   We think we made his day, as we set up Alfie, with awning, table, wine, cheese and biscuits and music.  He just stood and watched!
The only downside of the day was when Rob went to close the back-door and managed to shatter the rear window.  Bum!  Oh, and Sarah's mosi bites kicking in during the night.
Oh, and the bar staff and waitresses being taken home around mid-night but before this, filling some 50 million containers of water.  We didn't realise that we had parked adjacent to the only outside tap in the hotel!   But all in all, if wasn't a bad stop.  Hey ho!
Distance travelled: 201 kms.
Thursday 30th December/day 87. Elephant Motel – Bagamoyo Beach Resort.  Odometer  89684.
Shattered windows and bites = early start.
But where do we go to replace a window?  Hotel staff were suggesting we went back to Arusha, but one of our rules is that we never go backwards.  We tried to ask the friendly Masai guard, but sadly, sign language failed to live up to explaining what we needed and where to go.
We, therefore headed into Same, and just started asking around which was pretty useless as no-one could really understand us.  Rob spotted a Land Rover logo on the wall of a Bush Mechanics place and did a quick U-turn into their yard.  They did understand what we needed and soon produced a second-hand replacement window.
The price was agreed, albeit we knew we were paying over the odds.  Various guys were sent off to get mastik, rivets and a rivet gun to secure the grills back onto the rear window and Bob's your mother's brother.  Superb.  Job done.
An hour and half later, with a new window that the eagle-eyed may notice has the  registration of an old Tanzanian Land Rover engraved upon it, lighter in Tish we were off again heading for the coast.
The great observation about Tanzania is that you don't really get much hassle.   People watched but didn't bother us, girls came up to sell bananas but hey, that's how they make a living, children walked past, smiled and waved but not begging and certainly no high-pitched cries of Muzungoooooo!
The roads were good, so good that Rob managed his first and we hope last speeding ticket.  57 kph in a 50 zone.   After some quick negotiation, the fine was reduced and we set off again…slowly.  (Ahem, I think you'll find that's called a bribe, actually… anyway).  The roads were all good tarmac up until Msata when we turned left towards Bagamoyo.  We then had 63kms of bumpy dirt track where we passed through villages which seemed to have been flattened.  Was that weather which caused this?  Let's hope not, fingers crossed.
We arrived at Bagamoyo, approx 70 kms north of Dar-es-Salaam, late afternoon and blimey the temperature had soared.  Again, well in to the high 40s deg C and mega humid.   Rob headed for the bar, while Sarah opted for tea.  So very English.
The hotel had a fantastic setting, overlooking the Indian ocean, white sands, and no-one about.  Lovely.
The evening entertainment was in the form of the French female manager who was absolutely 100% pickled.   She made us a welcome drink which tasted like it was made of 100% proof rum (with a whiff of mango) but somehow we managed to sink both of these!
Distance travelled: 403 kms.
Friday 31st December/Day 88 – Bagamoyo Beach Resort – New Year's Eve.
Wow, hot night, reminiscent of Sudan.
A mega clothes wash took up most of the morning, oh, how Sarah misses her washing machine.  Soon, the pool was begging and we were both in need of a good dip and it was like getting into a warm bath.
We met Bob who was a trumpet teacher in the Army based in Cyprus.  We had a great chat whilst cooling in the pool around trumpeting and overlanding.   We are sorry that we didn't all meet up for the beer around the bar, but hopefully Bob is reading this!
New Year's evening started with another fantastic home-cooked meal by Team Alfie before retiring to the bar for entertainment by a troupe of superb dancers before seeing the New Year in.
We had spoken to a few people during the day about visiting Zanzibar and the advice was that it would still be packed and accommodation would be unavailable until after the 5th so we decided not to go.  Perhaps a visit some other year!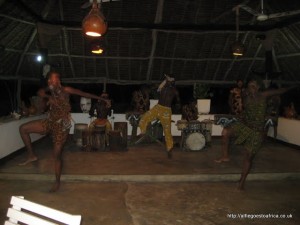 Bagamoyo – played a part in the history of the slave trade during the 19th  century as the mainland terminus for slave trade between Lake Tanganyika and Zanzibar.
Distance travelled: 0.
Saturday 1st January 2011/day 89 – Bagamoyo Beach resort.

Merry New Year!
Sarah had a second wave of bites, another sleepless night and had a bit of a sense of humour failure.  Without much consultation with Rob, Sarah had decided that our time was over in Bagamoyo.  We were packed and away in probably one of our quickest time yet!  Thank goodness Rob wasn't quite awake and for the power of antihistamines…anything to quell 16 monster bites.
A long day of driving followed but we had read in the Bradt guide about Kisolanza Farm, approx 50 kms southwest of Iringa and wanted to make it to the farm in one day.   Driving from the coast we passed through Makumi National Park but didn't see much apart from zebra and baboons.  We also passed row upon row of sisal. The road then climbs up to Iringa providing us with some more breathtaking views over rich green hill-sides.  The steepness of the road was also providing a challenge to many of the trucks and we think this was the worst stretch of road we had seen yet with broken down and smashed vehicles on virtually every corner.
Kisolanza Farm – a 2000 acre farm owned by the same white Tanzania family for over 60 years, Kisolanza is divided evenly between cultivation and natural vegetation, and its atmosphere and climate fall somewhere between the English countryside and the African bush.  Accommodation is a made of a mixture of farm cottages, lodges and camping pitches.  There is an area for overland trucks but this is set up in another area of the site away from the pitches and lodges.
Nicky the owner inherited the farm during the socialist government and times were tough. However, she was sufficiently brave enough to stick her head out and start farming again. Soon diversifying into the lodge and camping business and what a success with some 10,000 guests visiting each year.  A great spot  for a few days off.
We arrived at Kisolanza Farm at 5.45pm and were not to be disappointed. We were quickly shown to an immaculate pitch and asked whether we would like to take up the option of the three-course meal.  Yes please!
We were 'drummed' into dinner which was a novelty for us!  The Kihehe Hut restaurant was housed within an old brick barn which Nicky had restored.  As there is no electricity at the site, old lanterns provided the light and small charcoal burners provided the heat.
Dinner was lovely – steak, a fantastic variety of vegetables, and rich chocolate and mango cake and cream for desert.  We even had linen serviettes – superb.
Kisonlanza Farm: S 8 8.748   E 35 24.767.  www.kisolanza.com
Distance travelled: 575 kms
Sunday 2nd January/day 90 – Kisolanza Farm.  Odometer 90662.

The temperature here was so much cooler than the coast, approx 24 degrees, ideal for sitting and reading.   We then noticed that another English couple were vacating what we judged as the best pitch so after a quick check with the staff Rob manouvered Alfie around the corner to pitch number 5 (info for other overlanders).  The staff were great and helped us move as well.
Having settled into our new home we decided to explore the farm estate via the Sunset Walk, which took us in a loop around the lodge/camping area providing us with views of  vast open African landscapes – straight out of 'Out of Africa'.  Hours could be spent just looking out as far as the eye could see.
Now camped in the best pitch we took up the opportunity to purchase some beef from the farm and cook on the open fire with great results even if we do say so ourselves.  Beef in red wine was left to simmer away slowly for a couple of hours, only to be consumed within a matter of minutes! A sign of good food or was it down to two starving hungry people?
Distance travelled: 0.
Monday 3rd January/day 91 – Kisolanza Farm.  Odometer 90662.

As the site was so lovely, clean, hot showers and wonderful staff it didn't take us long to convince ourselves we should remain in-situ for another day.
We took another walk down to the lakes and wind pump, passing the flower farm as we went ( it exports thistles and flowers to Amsterdam ).  Lunch consisted of fresh bread and eggs from the farm with the plan for the afternoon to catch up on some more reading but we were visited by an English guy who decided to stay and chat for best part of two hours!  Most of the conversation was made up of that old Land Rover vs Toyota conversation.  Bored by being told they had the wrong car Team Alfie asserted themselves and suggested in no uncertain terms that he was pissing up the wrong tree and should change topic or go away.  His son was already cringing at his tales and pointed out that the new Prado was rubbish in the wet and mud, to which begrudging agreements were made.
Soon, it was time to stoke the fire and start to prepare for another gourmet beef meal cooked on the fire.   Just in time for when people started to arrive and check into the lodges.  We even heard the manager tell the guests "they've driven all the way from England".
Distance travelled: 0.
Tuesday 4th January/day 92 – Kisolanza Farm – Mbeye Forest Hill Motel, Mbeye. Odometer: 90662.

Today's plan was to make it to a Landrover Garage in Mbeye which Nicky had recommended to us, which we made in approx four hours which was pretty good going.
The Kaibuni Mission Garage is run by a charity and proudly owns a fleet of 14 Land Rovers so we were pretty sure they would know what they were doing.
The best mechanic – Workshop Manager, Christopher, was soon assigned to us and Alfie was given the once over and the fuel system checked for any blockages.  None found we also got the rear differential seal replaced properly this time and one of the front castor arm bushes replaced, having only survived the 3000kms from Entebbe.  This meant we needed to be back at the garage for 8am the next day following the challenge of finding a bank with a working Visa ATM.
We checked out two places to stay, one of which was non-existent and the other looked to be at the back of a truck stop so we ended up camping in the car-park of the Forest Hill Motel.  Not great, but very cheap.
Kaibuni Mission Garage:     S 08 56.261    E 033 21.490
Mbeya Forest Hill Motel:    S 08 54.732    E 033 26.467
Peace guesthouse – closed
Kaibuni campsite – looked to be behind a truck stop.
Distance travelled:  338 kms.
Wednesday 5th January/day 93 – Mission Garage – Utengule Coffee Lodge: Odometer 91000.

All morning was spent at the garage whilst the exhaust gasket was replaced (following  Rob's discovery of an exhaust bolt wedged by the starter motor) but we were pleasantly surprised to find that they didn't charge us for labour and we only had to pay for parts.  We thought this to be extremely generous and despite checking a couple more times we were assured that this was correct, therefore, we made a donation by way of tips to the garage.
Bank and supermarket followed before heading off to the Utengule Coffee lodge to stay which we found under the Bradt guide's upmarket section so we had high hopes.
The lodge was indeed in a spectacular location overlooking the Tanzanian countryside.  Just the spot for a cold beer and a fantastic pot of tea.
The campsite also doubles up as the helicopter pad for which we hoped we may get some warning should a helicopter decided to land!   We were soon joined by another Land Rover, this time a Discovery 3, driven by Mel and Paul who were driving up from Cape Town to Cork, who were able to provide us with some great ideas about where to spend our next (and last – boo hoo) 10 weeks.
Great conversations followed around Land Rovers and we were able to share our stories about our route south and the infamous Moyale – Marsabit – Isiolo road!  It was also good to learn that Mel's son was moving to Portsmouth University and Paul often visited QA in Portsmouth as a ENT Consultant.   Mel and Paul are on a slightly quicker time frame than us (this is the second bunch of Irish guys who are trying to cover the route in a matter of weeks!) and plan to make it to Cork and fly back to Cape Town by the time we arrive there… when we will rendezvous for another few drinks and more stories.
The downside of the stay was the food – expensive, overcooked and luke warm (Rob's rare T-bone was so tough, it could have re-soled the local's flip-flops and the veg and chips were cold).   Such a pity as the location is excellent, just be aware of the unreasonable prices.
Distance travelled: 45 kms.